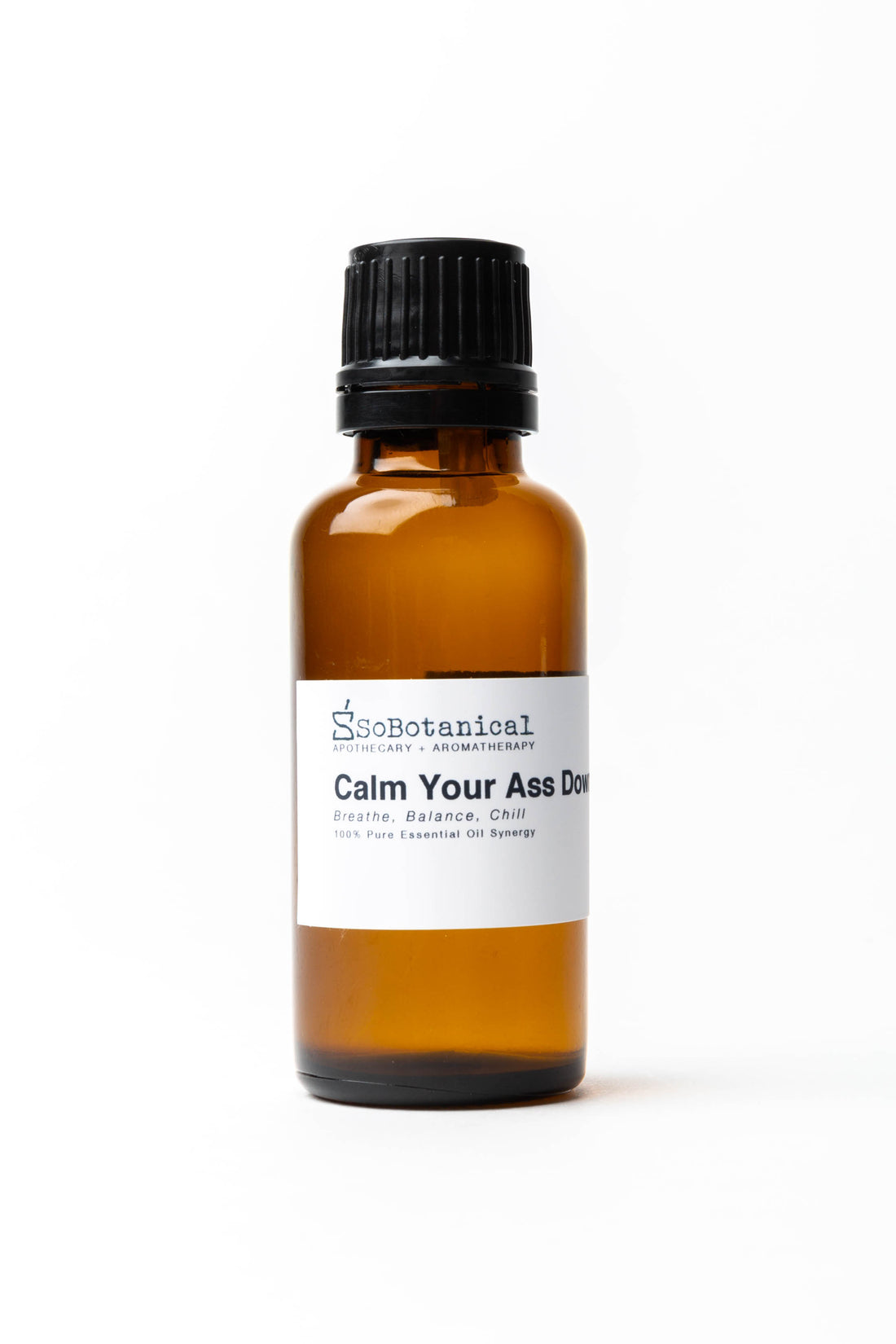 Best For
Relaxing, Balancing, Calming
Chill out

Breathe, Balance, Chill
Feel like a hot mess? Take our advice and calm your a** down.  The cooler you are the better you'll feel. Our Calm Your A** Down synergy blends citrus and lavender to balance your mood and soothe your emotions.
Instructions
Essential oil can be inhaled & applied topically in a diluted solution.

Do not take Essential Oils internally unless under strict supervision from a qualified Aromatherapist. Avoid contact with eyes, inner ears & sensitive areas
Aroma
Sweet floral with a citrus ribbon
Ingredients
Jojoba Oil, Essential Oils of: Lavender (Lavandula angustifolia), Lemon (Citrus limonum), Pink Grapefruit (Citrus paradisi), Ylang Ylang (Cananga odorata), Rose Geranium (Pelargonium roseum), Clary Sage (Salvia sclarea), Eucalyptus (Eucalyptus radiata), Blue Tansy (Tanacetum annuum).
2nd Purchase
I first bought this in Alpena MI in a crystal store. I loved it so much that the second purchase was the 30ml bottle.
AMAZING
love the scent definitely not overpowering. use daily smells clean fresh and calming
AMAZING
its a great scent very calming everyday throughout house I smell it and we LOVE IT. Not over powering not a scent that gives you a headache. its just calming
Ahhhhhh….
What a great find. Put some of the essential oil in my diffuser and spritz the linen spray on my sheets. Calming and relaxing!
the best
Smells so clean i just love it, use it almost daily