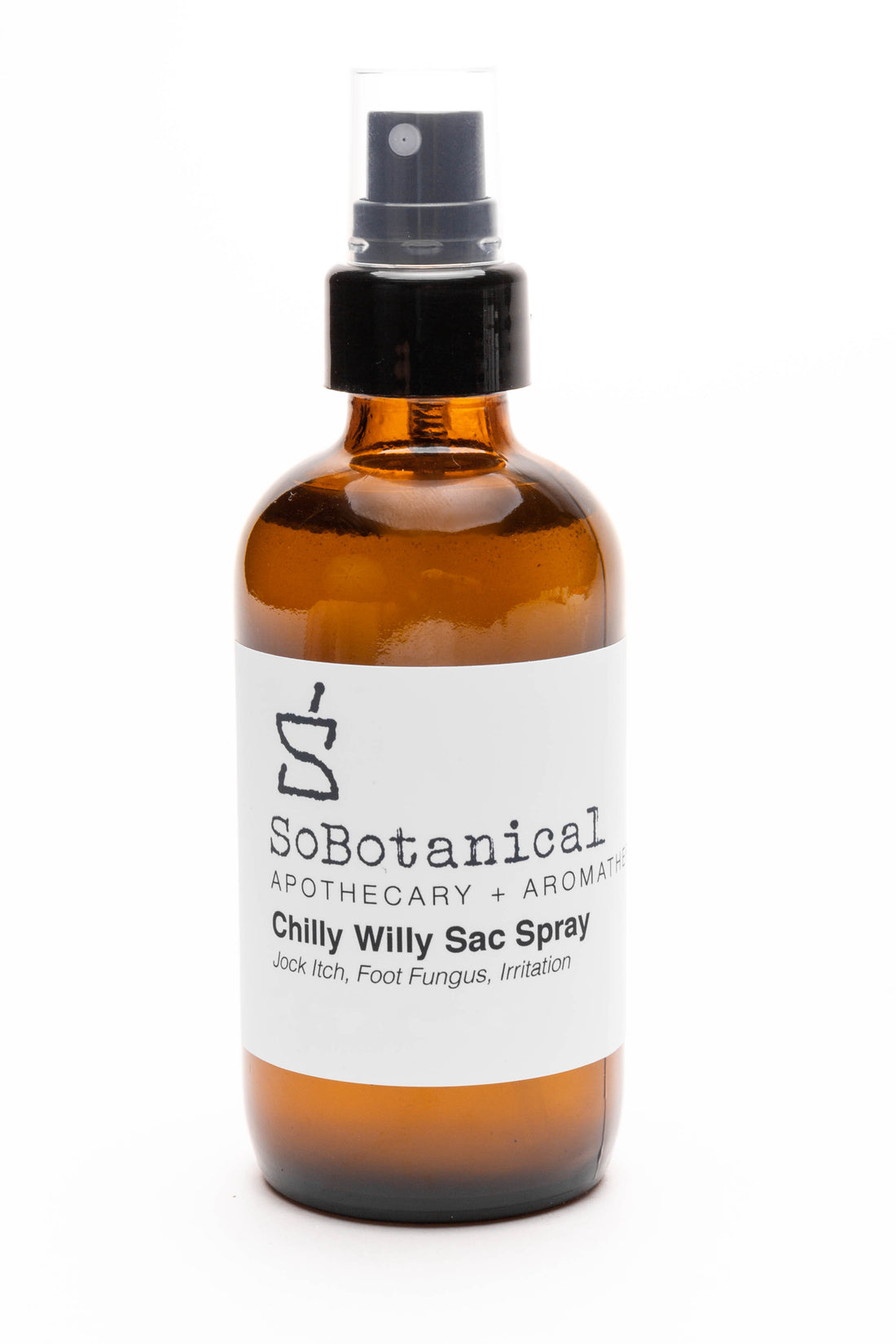 Best For
Jock itch, anti-fungal, foot/leg coolant
Liquid brother to the Chilly Willy Nut Dust
Key Ingredients: Colloidal Silver, Peppermint, Ionic sea minerals


Utilizing silvers natural antimicrobial properties, soothing aloe, and Helichrysum, this sac spray will keep you good fellas calm, cool, and clean without the mess.  You're welcome!
Love it Because
Brilliant multi-tasker can be used on other inflamed areas
Leaves area feeling clean and refreshed
Instructions
Mist onto the affected area as needed. Avoid contact with eyes & face
Aroma
Pleasant and cooling. Minty fresh
Ingredients
Distilled Aloe Vera, Witch Hazel (alcohol-free), grain alcohol, Calendula extract, Helicrysum extract, Chamomile extract, Colloidal silver, Ionic sea minerals, Caprylhydroxanic acid, Vegetable Oil Emulsifier,Essential Oils of: Lavandula angustifolia (Lavender), Mentha piperita (Peppermint), Pelargonium (geranium)*, Cypress (Cupressus sempervirens), Tsuga canadensis (Blue Hemlock Spruce), Melaleuca alternifolia (tea tree), Helichrysum italicum (helichrysum)
Crotch Rash
I contracted a fungus infection in my groin while hospitalized and was given a RX for a cream that did nothing to kill the fungus or ease the itching after a week + of usage. At this point it had spread to a larger area, so I contacted Tree who recommended the Chilly Willy Sac Spray and Dust. Within 2 days of using both products I noticed a remarkable difference and after 10 days there is little to no trace of the infection. Thanks so much to Tree and the SoBo team for another formula that does the job that a RX failed to accomplish.